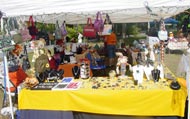 ASHEVILLE, NC – The 6th Annual Scarecrow Festival is fast approaching. On October 2, from 10 a.m. until 4 p.m., crafters will gather to enjoy the fall splendor of Lake Julian Park where they will show off and sell their creations.
Now is the time to call and reserve your booth space. Last year's event drew hand crafters from all over the Western North Carolina area. The booth spaces are 12' X 12' areas with or without electric hookups. The cost for a non-electric booth space is $35 and the cost for a space with electric is $40. Larger display areas are available. The deadline to register is Friday, September 24. Missed deadlines will be accommodated if space is available. Call Grace Young at 250-4260.
All exhibitors are asked to contribute one of their craft items to the Caldron of Crafts. Exhibitor booths are judged on their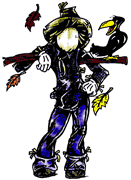 fall theme decorations, creativity and design. The winner will receive the pot of craft prizes donated by their fellow artisans. Go wild decorating your booth and take home the jackpot!
Entrance into the festival is free. Scheduled activities include face painting, clowns, and food booths. It's a great day of fun for everyone.
Location: Lake Julian Park
Date: Saturday, October 2, 2010
Time: 10 a.m. – 4 p.m.
For more information or to reserve your craft booth, call Grace Young at (828) 250-4265 or email her at: [email protected].