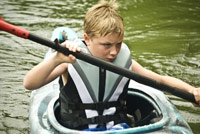 ASHEVILLE, NC – Buncombe County Parks, Greenways and Recreation Services will host the 2011 Camp Julian Day Camp the week of August 1 – 5. The camp will be held daily at Lake Julian Park in Arden from 7:30 a.m. until 5:30 p.m.
Choose the number of days your child attends. He or she can come for just a few days or for the whole week. Camp is limited to 20 campers per day. Camp Julian is open to rising 1st grade through 8th grade children.
Some great activities are planned for this year's campers:
Diamond Brand Outdoors is teaching two days of kayak instruction and outdoor skills.
For up and coming sleuths, a Crime Scene Investigation will be led by a Buncombe County Sheriff's deputy and detective.
Nutty Newton will have campers experimenting with the incredible forces of physics.
Ben Prater with North Carolina Wildlife introduces campers to the wonders of nature.
Campers will experience hands on activities with the Oricha Drum circle.
Land lubbers will have a chance to try their lake legs on a pontoon boat ride on Lake Julian.
Gerry Locklear with NC Wildlife and Fishing will teach lessons in water
safety, fishing and outdoor skills.
Sweet Tea Miniature Golf will set up nine holes of golfing for campers.
and More! Including fishing in Lake Julian.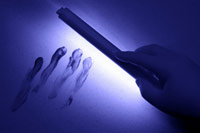 Registration has begun, and will end when all slots are filled. The cost is $160 per week, or $40 per day. Fees are due at the time of registration and include all programs, and morning and afternoon snacks. Campers will need to bring their own lunch and drink unless otherwise instructed.
For more information contact Grace Young at 250-4265 or email her at [email protected].
Tags: asheville, children, camp, Lake Julian