ASHEVILLE NC – Each year, the NC Division of Environmental Assistance and Outreach uses data from the solid waste and materials management annual reports to assess the total amount of material recycled by NC municipalities and counties.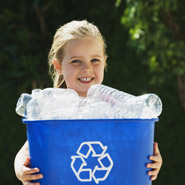 During fiscal year 2009-10, the recovery of traditional recyclable materials increased compared to previous years, and the proportion of materials recovered and returned to the economy compared to disposal was the highest on record. A notable increase came in plastic bottle recovery, which rose by 22 percent over the previous year.
Using these reports, counties were ranked based on the number of pounds of material recycled per person. Buncombe County ranked third overall, with 393.1 pounds of material recycled per capita.
A total of 45,285 tons of traditional recyclables were recovered in Buncombe County during FY 2009-10. Only Pitt and Catawba counties recycled more per capita.
Tags: asheville, buncombe county, recycle