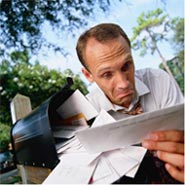 ASHEVILLE NC – It's fairly easy to stop unsolicited credit card offers. Just call or write the credit reporting agencies and restrict the sale of your credit report information. Stopping unsolicited credit card offers has an additional benefit; you'll have fewer identity theft-sensitive documents to shred.
By using one of the following three methods, your request to opt out will be submitted to the four major Credit Reporting Agencies (CRAs) of Equifax, Experian, Innovis and TransUnion. Opting out will stop most pre-approved credit card offers.
By telephone: Call 1-888-5OPTOUT (1-888-567-8688). Be sure to specify that you wish to be permanently removed from pre-approved credit card offers; otherwise you will be placed back on the recipient list in two years. To permanently opt-out, you will have to fill out a form that the CRA will mail to you.
By mail: Write a letter giving your name and address along with the statement "I am permanently opting out of the firm offers prescreening program." Send the letter to each of the Credit Reporting Agencies listed below:
Equifax Options
P.O. Box 740123
Atlanta, GA 30374-0123

Experian Target Marketing
P.O. Box 919
Allen, TX 75013

TransUnion Corporation
P.O. Box 97328
Jackson, MS 39288
Online for electronic and mail processing:  Visit www.optoutprescreen.com. This official credit reporting industry website accepts and processes requests to opt out of the pre-approved offer system. Select the appropriate option to opt out for either 5 years or permanently.
For permanent removal, you'll be required to complete the form online and then mail it to an address that is given after you hit the "submit" button. The two forms are similar in format but contain a slightly different confirmation statement just below the box to enter your telephone number (optional).