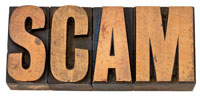 ASHEVILLE NC – The Buncombe County Sheriff's Office has been notified of a scam involving persons phishing Facebook for information about Facebook users' families, contacting them claiming that their relations have been arrested, and money is needed to either get them out of jail, or for court fees.
Targets of this scam are then instructed to go to Home Depot, obtain gift cards, and load large amounts of money onto them. They are then provided instructions on how to get the cards to the persons requesting them.
The Buncombe County Sheriff's Office advises anyone contacted by someone claiming to be a relative, or someone claiming to be in contact with a relative who is in legal trouble, to first attempt to contact that relative directly themselves. If contact is not made with that relative, contact the Buncombe County Detention Facility to see if that relative is currently being detained there; the number to the Detention Facility is (828) 250-4550.
If you have been contacted by someone trying to solicit money from you using this scam, or if you have been a victim of this scam, please call the Buncombe County Sheriff's Office at (828) 250-6670 to file a report. The Buncombe County Sheriff's Office would like to remind those using social media to monitor their accounts, utilize the privacy settings available, and use their judgment when being asked to provide money to anyone who they do not know, and who has contacted them out of the blue.