ASHEVILLE NC – Buncombe County Government received 7 National Association of County Information Officers Communication Awards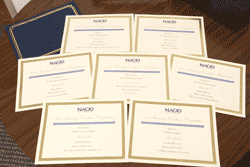 during the National Association of County Commissioners annual conference in July. The awards were presented on Sunday, July 13 in New Orleans.
This awards competition showcases the best communications and public relations projects from public information professionals throughout the country. NACIO President Todd McGee, the Public Relations director for the North Carolina Association of County Commissioners said, "I know the judges had a difficult time in selecting the winners, and that is a testament to the great work that is being done to help citizens better understand what county governments do."
Buncombe County received seven awards:
Best of Class for
Two Superior or First Place wins in the category of  Video Interview/Talk Show:
Superior win for photography:

9/11 Remembrance Ceremony

Excellent and Meritorious in the category of Public Service Announcements respectively for
Excellent in the category of Social Media for

Two Thumbs Up for Buncombe County
To see more of our award winning videos or to subscribe to our ezine, go to buncombecounty.org.
For more information about these awards, check out: www.nacio.org.